It didn't take much thought when it came down to my favorite anime studio. The answer was very simple for me, for I knew what studio capture my heart with their movies, and style of animation.  Studio Ghibli is by far one of my favorite studios in the anime industry. I haven't watch a single movie made by them that I did not like.  Their work is simply beautifully done, and so well thought out. I truly feel like they put a lot of love into what they do. Each film is unique in its own way, and they have a way with making it easy to relate to one of their films. Ghibli films are just simple magical, and touching. There are so many words that could describe Ghibli films, but that is what makes them so amazing.
A little History!

"You cannot alter your fate. However, you can rise to meet it."—Princess Mononoke (1997)
Tokuma is the parent company of Studio Ghibli, and it has provided the Walt Disney Company with the video rights to all of Ghibli's output that did not have previous international distribution, including the global, non-Japan distribution rights to Princess Mononoke and Spirited Away.
The most famous and lauded film from the studio that was not directed by Miyazaki is Grave of the Fireflies, directed by Isao Takahata, a film focusing on the lives of two war orphans towards the end of the Second World War in Japan.
Over the years, there has been a close relationship between Studio Ghibli and the magazine Animage, which regularly runs exclusive articles about the studio and its members in a section titled "Ghibli Notes." Suzuki decided to hand over the presidency to Hoshino because Hoshino has helped Studio Ghibli sell its videos since 1996, as well as helped to release the Princess Mononoke film in the United States. ( Source Wiki Fandom)
Some Of My Personal Favorite Movies by Ghibli
Spirited Away
"Once you've met someone you never really forget them."—Spirited Away (2001)
Summary: Stubborn, spoiled, and naïve, 10-year-old Chihiro Ogino is less than pleased when she and her parents discover an abandoned amusement park on the way to their new house. Cautiously venturing inside, she realizes that there is more to this place than meets the eye, as strange things begin to happen once dusk falls. Ghostly apparitions and food that turns her parents into pigs are just the start—Chihiro has unwittingly crossed over into the spirit world. Now trapped, she must summon the courage to live and work amongst spirits, with the help of the enigmatic Haku and the cast of unique characters she meets along the way. Vivid and intriguing, Sen to Chihiro no Kamikakushi tells the story of Chihiro's journey through an unfamiliar world as she strives to save her parents and return home. ( Source MAL)
My Thoughts: Spirited away is a phenomenal animation with rich vibrant colors, and the animation style is very fluid. I have watched Spirited Away way more than I like to admit, but I can honestly say I have no regrets. The animation was outstanding, when you feel like you can feel the wind whisking through the grass … you know they did a fantastic job at captivating the audience. When you can create a whole world out of nothing … meaning you start from scratch, and create something that seems so real. It is simply astounding.  The sound track for the movie fit very well. They did the timing just right for certain scenes. The sound tracks are a combination of simplicity and beauty. Which is a great fit for Spirited Away. Watching Spirited Away is like stepping into a world filled with magic. You feel like this magical world could actually be real. I literally felt like this from start to finish of the movie. It is a movie I recommend to any non anime fans, because I feel like even if you aren't into anime you will enjoy Spirited Away.
Kiki's Delivery Service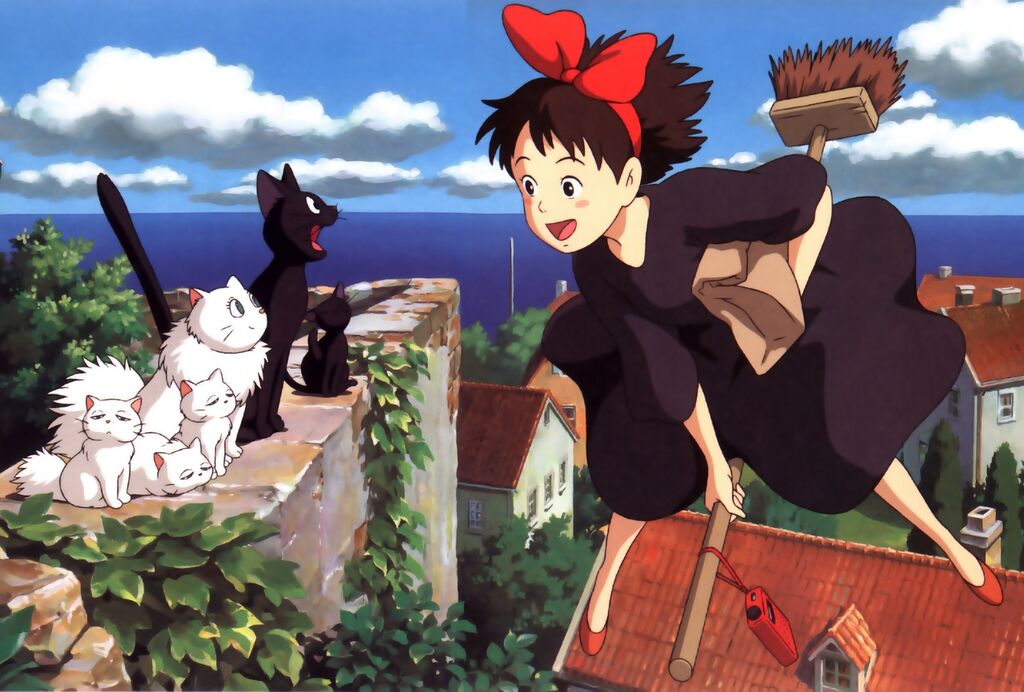 "Just follow your heart, and keep smiling."—Kiki's Delivery Service (1989)
Summary: Kiki, a 13-year-old witch-in-training, must spend a year living on her own in a distant town in order to become a full-fledged witch. Leaving her family and friends, Kiki undertakes this tradition when she flies out into the open world atop her broomstick with her black cat Jiji.
As she settles down in the coastal town of Koriko, Kiki struggles to adapt and ends up wandering the streets with no place to stay—until she encounters Osono, who offers Kiki boarding in exchange for making deliveries for her small bakery. Before long, Kiki decides to open her own courier service by broomstick, beginning her journey to independence. In attempting to find her place among the townsfolk, Kiki brings with her exciting new experiences and comes to understand the true meaning of responsibility. ( Source MAL)
My Thoughts: Kiki's Delivery Service is an outstanding coming of age story that I have also watched several times. Kiki's Delivery Service is filled with inspiration, warmth, sympathy, and a welcoming feeling that will touch your heart. The story is simply about a young girl (Kiki) coming to terms with growing up. Kiki moves to a town filled with strangers, and must adjust to everyday life. This town is a whole lot different from her quiet country side hometown. Kiki discovers she will have to learn to not only adjust, but to hustle in order to live in this new urban area. I remember when I first moved out from my mom's house … it was scary, and exciting at the same time. Kiki Delivery Service delivers this feeling in the movie. They show that kiki is scared, but at the time she is excited for this new life style. The movie also depicts the struggles of living on your own. Living on your own is never easy when you first start out, and Kiki soon learns that when things don't go the way she was hoping for. Kiki Delivery Service is an all around great movie. This movie has a touch of what real life is like when you finally adventure on your own into the real world.
Ponyo
"She's big and BEAUTIFUL!!! But, she can be very scary." – Ponyo (2008)
Summary: A lonely little boy named Sousuke lives with his mother by the sea, flashing messages across the water to his father's boat. One day, amid the detritus brought in with the tide, he stumbles upon a little goldfish. Delighted by this strange new friend, he takes her home and names her Ponyo. Sousuke comes to learn, however, that Ponyo is no ordinary fish. A visit from a strange man brings with it fantastical happenings that lead Sousuke and Ponyo on an enlightening adventure.
In Gake no Ue no Ponyo, magic and reality clash around Ponyo and Sousuke, testing their resolve. Despite the trials they face, Ponyo and Sousuke form a strong friendship. They meet many interesting characters, and learn just as many lessons from them. (Source MAL)
My Thought: you want to talk about a beautifully created movie … lets talk Ponyo!  I don't even have words for how astonishing the animation, and visuals are for this movie. It is absolutely fucking beautiful … a damn masterpiece! Though the movie is geared more toward a younger audience I think the movie is just as enjoyable for adults. However, because it is geared toward a younger audience its progression is slower, but that doesn't make this any less of a good film! The main character Sousuke saves to be what he believes is a "goldfish" from the ocean. This "goldfish" just so happened to be trapped in a jar! What little Sousuke didn't know is the "goldfish" isn't actually a "goldfish', and the "goldfish" farther is looking for her. None the less Sousuke had no care in the world, and vowed to protect this "goldfish" who he calls Ponyo . It is truly a cute light-hearted story that will leave you saying "Awe".
"It's okay, it's okay to cry. Just know that I love you forever." – From When Marine Was There
Studio Ghibli will always hold a special place in my heart. definitely since I grew up watching a lot of their movies! They just have a way with making the audience feel connected with each of their films that they have made. If you aren't able to relate to one film I am sure you can find several others that will be easy to relate to. What is your favorite anime studio? Did you enjoy reading this blog? What was your favorite part about this blog post? I would love to hear your thoughts in the comment section below!