I was thinking this might be a fun little segment to incorporate into my blog! I thought maybe doing this every week on a certain day, but realistically I have never been good at doing things on a schedule. So what I am going to do is post an issue when I feel like it is worthy to be posted. I simply think I will be able to provide better material to talk about if I don't feel rushed. Basically, I will bring anime, and manga news to you. I will talk about upcoming anime's, and manga's, articles I found interesting, maybe even incorporate some interviews with other bloggers, and much more. I would certainly love to also hear the viewers feed back and ideals as well! On that note let's get started with issue one!
~Radiant Anime Preview, and Thoughts on the Manga!~
My Thoughts: Currently I am in process of reading Radiant by Tony Valente.  Fun fact this actually a French manga which became the first one to be published in Japan. Currently there are 9 volumes out total, but only recently has been published in English by Viz Media. Honestly the story seems like it will be pretty solid from what I have read so far. I am really curious to see how things will turn out, and what kind of adventures Seth will go on. I am hoping to see a lot more of Alma … she seems like a real bad ass with a real temper from what I have seen so far. Put it this way I will for sure be purchasing volume two when it is available in English.
Summary: "In a World… where people live on sky islands above the clouds, strange monsters called Nemesis occasionally fall from the sky and wreak havoc in towns. The only people able to inflict damage to them are the Infected, humans who miraculously survived the normally lethal contact with a Nemesis and gained the power to manipulate Fantasia, at the price of some physical defect. While people call them for help when a Nemesis pops up, the Infected are nevertheless considered abominations and feared by the common folk.
The horned orphan Seth is one of them, and lives away from humans with his teacher/adoptive mother Alma. While he absolutely wants to fight Nemesis, his impulsiveness often stirs up more trouble than he would like, which doesn't help his or Alma's case. But soon he realizes that fighting off the monsters that appear here and there is pointless if you don't go for the source: an entity called the Radiant, that no one has ever found, and may or may not actually exist. Joined by the bumbling Researching Sorcerer Doc and the severely bipolar Trapper Witch Mélie, Seth's first step in his journey will be to join a giant flying city, the Artemis Institute, home of many professional sorcerers. And to avoid getting too much on the Inquisitors' bad side, preferably." (Source Tv Tropes)
"People aren't born human, they become human"-Alma
The trailer looks pretty steller (still think I am spelling that wrong), the animation has a nice modern vibe to it. The characters in the trailer really stand out, and look fun. I think they did a good job bringing out the main point of the anime which is defeating Nemesis while becoming the best sorcerer ( bit cliché).  This could be a new Shonen type series to watch out for if I am being completely real. Yes it has some cliché aspects to it, but if you read volume one you will find that it has some interesting outtakes that are different.
Radiant will air October 6th, 2018 this fall. The anime is expected to have 21 episodes However the duration of the anime is currently unknown. I am going to guess that each episode will most like be about 24 minutes long.
Type: TV
Episodes: 21
Status: Not yet aired
Aired: Oct 6, 2018 to ?
Premiered: Fall 2018
Broadcast: Saturdays at 17:35 (JST)
Producers: NHK, NHK Enterprises
Licensors: N/A
Studios: Lerche
Source: Manga
Genres: Action, Adventure, Fantasy, Magic
Duration: Unknown
Rating: PG-13 – Teens 13 or old
~Let's get to know some key characters!~
Seth
Voice Actor: Yumiri Hanamori
"Seth is an apprentice mage. He dreams of being a cool mage and so every day, he undergoes special training. He's clumsy and is always messing things up, but he's upbeat and sticks to his morals. Due to being cursed by a nemesis, he has horns growing from his head. His special ability is Titan Punch!" (Source Honey's Anime)
Merie
Voice Actor: Aoi Yuuki
"Merie is a mage whose characteristic is her bright red, tousled hair. She is a hunter in waiting who belongs to Artemis Academy. Friendly yet shy, she has her innocent moments, but once a curse is invoked, it can become quite the spectacle… Her specialty is defense magic and what she wants are friends!" (Source Honey's Anime)
Doc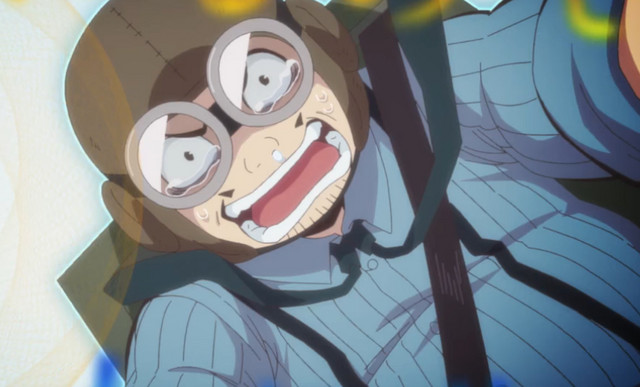 Voice Actor: Shintarou Oohata
"Dok is a researcher attached to Artemis Academy. Just like Seth, he too is contaminated becauseof his encounter with a nemesis, but he chose the path where he wouldn't have to learn magic. He's extremely scared of things, and thinks the best way to live is to avoid dangerous things. For some reason though, he always is dragged into troublesome things." (Source Honey's Anime)
Alma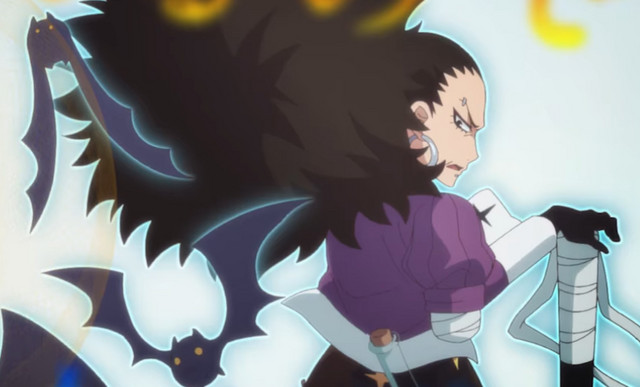 Voice Actor: Romi Park
"Alma is a veteran mage and the person who raised Seth. She is a tracking hunter. She lives together with Seth on a flying ship where she can observe nemesis. She things that there is no way that mages who are cursed beings and normal humans can ever come to understand each other. She's always getting angry, but she also has a side to her that is concerned about Seth." (Source Honey's Anime)
~Spooky October Manga To Read~
With October only a few days away I feel it is important that we get a little spooky~ *Does eyebrow wiggle* ! Nothing better than to start your October off right, and when I say right I mean reading some good ol horror manga. In this little segment I am going to list out three horror filled manga that will have your teeth chattering before you are done reading the 1st chapter!  Why? Because I am feeling Spooky~ *Does eyebrow wiggle again*
Pet shop of Horrors
"A smoke-filled alley in Chinatown harbors Count D's Pet Shop. The pets sold here aren't your everyday variety and the Count prides himself on selling Love and Dreams in the form of magical creatures that come with an exclusive contract. But buyers beware. If the contract is broken the Count cannot be held accountable for whatever may happen. A fascinating and macabre look into the very soul of human nature. "(Source: Tokyopop)
Pet Shop of Horros currently has 10 volumes out with a total of 41 chapters. It is as an oldie but classic horror read from 1995 to 1998. Akino, and Matsuri write an engrossing mystery filled with just the right amount of horror to make you say OH MY! Please note this manga does contain a lot of gore, so if you are not a fan of gore you may want to find something else. For this manga does not lack in the gore section at all. However, for some this may be a very appealing aspect if you enjoy a lot of gore. Pet Shop of Horrors is one of those manga's that you wished never end!
Gantz 
"Thought your life was bad? Sometimes, death is worse. There is no salvation, peace, nor god waiting to receive you into their care. But wait, a god? Maybe you are talking about that big black ball stuck in the room with you. Now you are thrown into a game, fighting green aliens and robot monsters for the chance to survive. 
When Kei Kurono is killed, he thus finds himself caught in such a game—a test of his skills, morals, and will to survive. His life is not his own; his death is spat and trampled upon over and over again.
What happens if he does not listen? God knows. A word of warning: Gantz is not for the faint-hearted, but neither is it as simple as it looks. Gore, rape, and violence is rampant, as are portrayals of greed, violence, and all the ugliness that one sees in society today." (Source MAL).
Gantz published July 13, 2000 to June 20th 2013, with a total of 317 chapters that isn't for the light-hearted. Seriously if you are easily triggered do not pick this manga up! be prepaid for a galvanizing seinen, sci-fi, action manga that takes you the reader on a gory filled ride. This manga was a bit much for me at times, but the plot is just so damn good that I couldn't help, but push through it!
Gakkou Gurashi!
"Takeya Yuki is in love with the school. For her, it's a wonderful place, where she enjoys her school activities, especially the activities of her club: School Life Club. The club has Rii-chan as the president, Kurumi-chan as another member, and the teacher, Megu-nee, always there for them.
Yes, she is in love with her school… on her mind. Because, for her, the reality of the school and their club's activities is way too hard to be perceived… From Batoto: Three high school girls and a teacher are camping at school.
The First Article of the "School Life Club" Code reads: The School Life Club encourages a spirit of self-governing independence by camping at school, as well as socializing with various after-school clubs, which you can't enjoy from regular classes alone." (Source Mangakaka)
Looking for cute girls, and zombies? Well my friends I think I have found the perfect manga for you! Gakkou Gurashi currently has 66 chapters available in english. This manga was published May 24th, 2012, and is still currently an ongoing series. I don't want to spoil this series too much … for the best part about this manga is not knowing what is going to happen next.  However, I will say the girls in this manga really kick some zombie ass!
~Extra Extra READ ALL ABOUT IT! ~
Not good with staying up with the current anime, and manga news? Fear not senpai has some articles that I think you may want to check out. These articles may or may not contain some useful information to you! Click the titles to view each article if they pique your interest.
"The third season premiered on April 7, and covered the "Forest Training Camp" arc and the "Pro Hero Provisional License Exam" arc from Kōhei Horikoshi's original manga. Funimation is streaming the English dub of the third season, and Crunchyroll and Hulu are streaming the series with English subtitles." -ANN
"Hentai isn't the only type of anime you should watch alone or with friends. Whether it's the sexual content, overall weirdness, or excessive gore, there are some anime that your parents just don't need to know you're into. Unless, of course, you like having awkward conversations with your parents about the adult scene they just walked in on. So, for those of us looking to avoid a repeat of the "birds and the bees" talk, here are five anime you shouldn't watch around your parents. "– Zuleika Boekhoudt
This article was a real joy to read by Zuleika Boekhoudt. She really has a fun way with writing her articles, and grabbing the reader's attention. A little about the author of this article from wiki fandom. " Zuleika is a fan contributor at Fandom and focuses on Anime. Her anime specialties are horror, gore, and mystery anime. Loves series, movies, and games that have to do with bloodthirsty but equally intelligent psychos." I love reading articles by this Zuleika because we share the taste for horror, gore, and mystery type anime/manga.
"The official website of the Ikkitousen franchise has annonced that a new anime is in production. Titled Ikkitousen: Western Wolves, it will be sequel to the Extravagenza Epoch OVAs released in 2014. Most of main female cast members will reprise their roles, with Ami Koshimizu (Code Geass series) joining the cast as Musashino Shinmen. The official website will reveal more information at a later date." -MAL
I am pretty fucking excited that I just so happen to stumble upon this. I was a huge fan of the Ikkitousen series even though it had a lot of fan service, but the fight scenes in the anime were always so awesome, and exciting to watch. I am beyond words kind of excited lol. The first season for me was the best season, but the other season were just as good. I am really curious to learn more about this sequel, and what kind of characters we will meet.
What to expect next?
Wow guys what a fun-filled issue this was! I had so much fun researching, and gathering information to write this blog post for you. In issue two you can expect to learn more about a variety of characters from different anime's, and manga's , I will be recommending some awesome blogs to follow, talking all about Blooming Into You the next BIG yuri to come out, and much more! I would love to hear your thoughts on issue one in the comment section? Did you enjoy this issue? Would you guys like to see more? Please let me know! Thank you for reading!