With only a few days of September left my favorite month of the year is finally about to arrive. Meaning new manga will be hitting the shelves! In fact new manga's has already started to hit the shelves. I went on a little adventure to the books store today. When I arrived I immediately went to the manga section. Upon my arrival I discover a few new manga's that I had been waiting for are finally out. Low and behold I spent a good $40.00 dollars today. Did I need to spend that much no, but for the sake of my sanity it was worth every penny.
Senpai! What Manga's Did You Buy Today?
Huehuehue funny you ask, because I bought I total of four manga's. Three of them at the book store, and one on Amazon. Here are the following titles I bought!
Magical Girl Spec Ops Asuka 
Summary: A top-secret summit between the nations of Earth and their otherworldly counterparts draws near–and it's Asuka and her fellow magical girls that will need to keep it safe. A shadowy organization moves behind the scenes, plotting slaughter and catastrophe. The sinister Giess has trained a murderous magical girl of his own, and with a small army of monsters on his side, it'll take everything Asuka and the special forces have to hold him off. The time has come for Asuka and her old comrades to join forces once again in deadly combat! ( Source Amazon)
My thoughts: With currently four volumes out Fukami definitely takes dark themed magical girl to a whole new level, and perspective. I will most likely read this manga first out of the other four manga I got. If not first it will be second for the third volume left me wanting more. I need to know what happens next! I am also excited to learn even more about the characters. I am currently in process of doing a breakdown on the first volume for you guys … I think this is a well worth series to pick up reading. I hope I get that point across in my breakdown.
Hinjowa ga CRUSH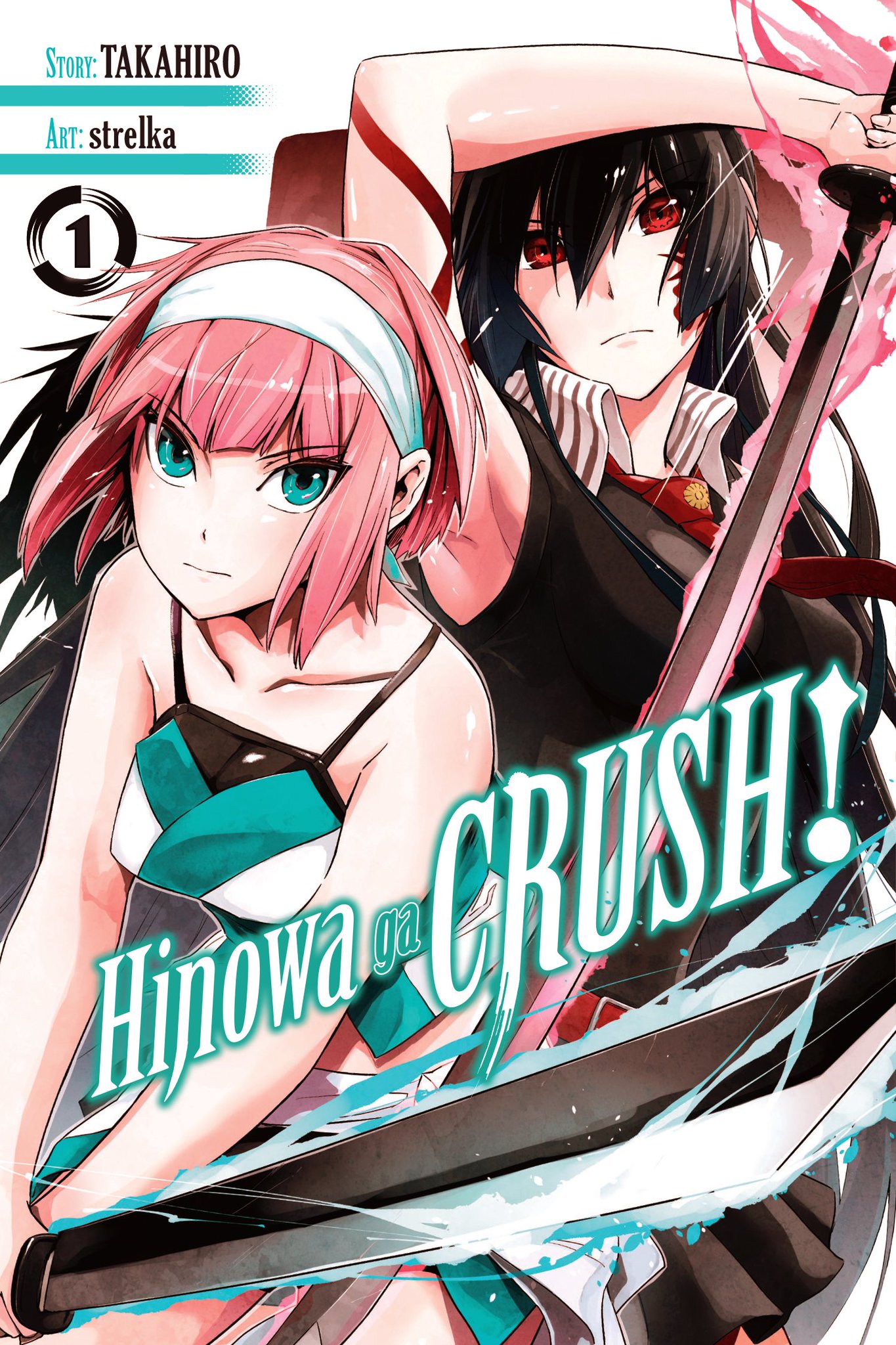 Summary: On the island of Wakoku, the civil war offers anyone the chance of becoming a hero — from fishing women to bastard children, any can make a name for themselves by working through the rigorous ranks of the army. Hinowa, a young woman with extraordinary skills, is determined to do just that, but soon learns things may not always go to plan…More than ten years after a disastrous battle, the war is still ongoing, and a girl with black hair and black markings washes up on shore… (Source Amazon)
My Thoughts: This manga immediately caught my eye when I saw it was from the same writer who did Akame ga KILL.  Just from browsing through the pages really quickly the artwork seems stunning! I have also done some research on this manga, and it seems the main character is going to be pretty steller ( I think I spelled that wrong). Hinata comes off as brave, and determine to reach her goals. Which is put an end to wars while creating world peace. According to wiki fandom she is caring, compassionate, and pretty intelligent. A big plus about Hinata is how she is able to keep her composure in battle. I have high hopes that this manga will have a good story line.
Radiant
Summary: The world is overrun with monsters called Nemesis—and a young boy infected by them will stop at nothing to defeat them all! Evil creatures called Nemeses fall from the skies and the only ones who can fight them are Wizards—infected ones who survived a Nemesis's corruption. Seth, one of these survivors, vows not only to fight the Nemeses, but to find their mythical nest, Radiant, and destroy it!
Seth has big goals of defeating Nemeses, but first he must earn the trust of the very villagers he wants to protect—not an easy task when those who use magic are just as feared as the Nemeses they fight. Even worse, Seth can barely control his monstrous powers! It'll take more than brute strength—although it'll take that too—to get Seth's quest out of the boonies and into the big time! (Source Amazon)
My Thoughts: This wasn't on my reading list, but I stumbled upon it at the bookstore and was immediately drawn to the manga because of the cover. The cover is simple, but vibrant at the same time.  Tony Valente the writer/illustrator of this manga did  impressive job at grabbing my attention with just the cover. I started to flip though the manga to get a feel for it, and it looks like it will be pretty interesting. I get a feeling that this will be another magical filled series. Which for me isn't a bad thing at all. As you guys know I love series based around magic. Makes me feel like a little kid again ya know. Oh yeah apparently this manga is getting an anime adaptation that will premier October 6. I am not sure how I overlook this in the fall section, but I will definitely be watching the anime now that I got the manga.
Soul Liquid Chambers 
Summary: THERE MAY BE SOME TURBULENCE AHEAD – The dark secrets of Perrault Town come to light: what looked like a paradise in the middle of a zombie-infested wasteland is really just a monument to one man's greed. When the walking dead attack, old man Perrault will sacrifice every soul in the city to get his hands on the secrets he desires. It falls to Emil and the twins to fend off the invasion–and escape Perrault with their lives! (Source Amazon)
My Thoughts: I got volume one on a whim, but I didn't think I would love it as much as I did. It is a classical zombie theme with a lot of gore, and a great fucking plot twist if you ask me. Not only was the first volume spectacular, but the illustration done by Nozomu Tamaki is out of this world. Each panel was done with lots of love, and care. I am excited to see what awaits me in volume two since Nozomu surely didn't disappoint in the first volume. After I finish my breakdown with Magical Girl Spec Ops Asuka .. I will for sure do a breakdown on the first volume of Soul Liquid Chambers.
I will probably add on more to my reading list as the moth progress, but I will first finish what I have before I get in to deep haha. I tend to overload myself, and I really need to stop doing that! On that note, what manga's are you currently reading? What are some new manga's you will be reading? Did any of the manga's I listed above interest you? I would love to hear your thoughts in the comment section below! thank you guys oh so much for reading my blog! Have a wonderful day/night!