Yo what's up everyone! I just want to say this is the most I have ever stuck with blogging on wordpress … I blog on amino, but even then it isn't everyday. On a super serious note I am going to do an anime breakdown on Violet Evergarden. Let me just tell you this anime had me an emotional mess! In this breakdown I will talk about the freaking plot of course, the gosh darn it characters, and the oh so majestic animation … I think those will be the headers for each section to lmao. I will of course give my overall thoughts on the anime itself.
WARNING SPOILERS AHEAD
Alright you maniacs listens up the following breakdown will contain spoilers! Gotta problem with that?!?! ya do hey ! Well I suggest you watch the anime first you spoiler hater … wait I ain't done yet.  I don't do plagiarism because that shit is whack yo so I will make sure I source anything that doesn't come from my mouth, and if you were able read that without cringing … I give you props.
The Freaking PLOT!
Summary: The Great War finally came to an end after four long years of conflict; fractured in two, the continent of Telesis slowly began to flourish once again. Caught up in the bloodshed was Violet Evergarden, a young girl raised for the sole purpose of decimating enemy lines. Hospitalized and maimed in a bloody skirmish during the War's final leg, she was left with only words from the person she held dearest, but with no understanding of their meaning.
Recovering from her wounds, Violet starts a new life working at CH Postal Services after a falling out with her new intended guardian family. There, she witnesses by pure chance the work of an "Auto Memory Doll," amanuenses that transcribe people's thoughts and feelings into words on paper. Moved by the notion, Violet begins work as an Auto Memory Doll, a trade that will take her on an adventure, one that will reshape the lives of her clients and hopefully lead to self-discovery. (Source MAL)
My Thought: Alright so let's be honest Disney movies make me cry, but this was a different kind of cry lol. This anime had me boo-hoo crying like a little bitch lmao.  I have never felt so damn emotional in my life! "I want to know what I love you means" this is the line that started a beautiful journey for our main girl Violet who was once just a war tool in the great war. All she knew was killing without any sort of emotion, or attachment. Violet was literally just a tool without emotions, but that all changed when she started to work at CH Postal Services as a Auto Memory Doll.
I thought Violet journey was very alluring in many ways. It was amazing to watch her grow into a human with emotions as the series progress. Now I never read the novel, but I am honestly thinking about getting the novel, because of how amazing the anime series was.  The story evolves around Violet writing letters for other people after the great war. When she first starts out writing letters many customers were not pleased for she was to straightforward. This is due to her lack of emotions since she was treated as a mere tool. Violet does not understand what would be considered righteous, or erroneous. All she ever did was merely chased after the adults who gave her orders. This caused a huge problem when it came down to writing a letter for someone else. Violet is suppose to express what the client is unable to express in the letters she writes. This was something she was unable to do at first.
As Violet meets more clients all with unique characteristics, we start to see Violet show new emotions that she didn't show before. Her motto was no letter deserves to be undelivered. This was due to the happiness of other receiving the letters … this also made Violet happy.  What I loved the most is seeing the main character come to understand human emotions. This later brings regret to Violet … for she now understands how truly dark her past life was.  In the end Violet comes to value human life! Where as before she wouldn't think twice to kill someone if ask to. No you guys the story is truly breathtaking !
The Gosh Darn it Characters
Violet Evergarden
Violet Evergarden is the main character of the anime … hence the anime name. She is a former child soldier who happens to be an orphan; she was enlisted in the Leidenschaftlich army and fought in the war, where she was treated as nothing more than a weapon because of her extraordinary fighting capabilities. After the war, Violet became an Auto Memories Doll at the CH Postal Company, seeking to understand the meaning of the words "I love you," which was told by the person she holds dearest, Gilbert, during the War's final leg. (Source Wiki Fandom)
Gilbert Bougainvillea
Gilbert Bougainvillea is a major in the Leidenschaftlich army who values Violet more than anything. Gilbert is the man who sees Violet as a human being rather than a war tool. Gilbert comes off rather reserved, stoic, and stern … it is actually stated he not someone who is love anyone, or be loved by someone else. Which is actually pretty ironic if you ask me. (Source Wiki Fandom)
Cattleya Baudelaire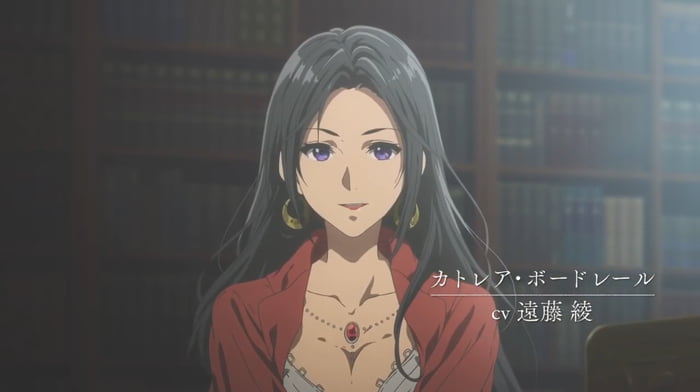 Cattleya  is a figurehead Auto Memories Doll who works for the CH Postal Company, Cattleya never stops being requested and often takes on clients with love troubles. She works alongside Violet and has been close with Hodgins since before the company was established, joining as one of its initial employees. Cattleya is a woman with intense and passionate emotions. Although she possesses great strength, she is very feminine and can be quite sensitive, and is constantly worrying about her appeal towards Hodgins. (Source Wiki Fandom)
Benedict Blue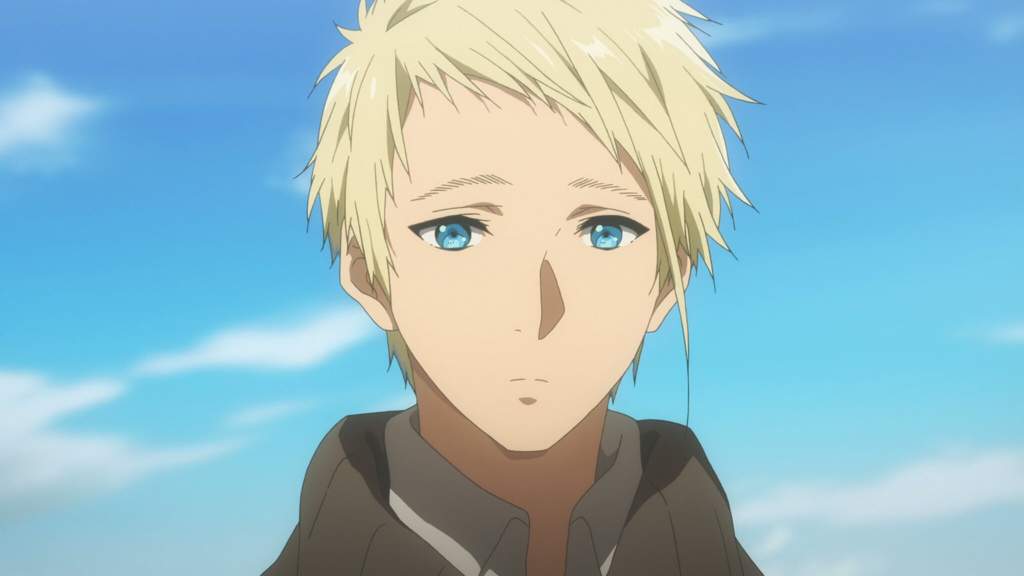 Benedict is a postman working at the CH Postal Company. He has known Hodgins since before the company's establishment and has had a brusque attitude towards him since he starting work there. Benedict is a very short-tempered, uncouth, and stubborn young man, to which his attitude and speech come off as blunt and rude. He isn't very good with words or being respectful, especially when it comes to Hodgins. ( Source Wiki Fandom)
Claudia Hodgins
Claudia is a former lieutenant-colonel of the army, but quit the military as a result of the war's end and opened the CH Postal Company, where he serves as its president. He is tasked with watching over Violet, a task given to him by Gilbert. Hodgins is a very warm, kind and considerate man, who doesn't judge people and gives people chances they deserve. Sometimes cheerful, he is gentle and always tries to speak positively and make his surroundings warm. He is mature and follows his morals, traits he teaches to Violet. (Source Wiki Fandom)
Erica Brown
Erica  is an Auto Memories Doll who has been working at the CH Postal Company for a while. She is not good at communicating and isn't confident in her work. Erica is a quiet girl who is usually seen in the backgrounds. She isn't confident in her own work as an Auto Memories Doll and is easily swayed by other opinions and takes criticism on her work seriously and to the heart. (Source Wiki Fandom)
Iris Cannary
Iris a rookie Auto Memories Doll with an unyielding spirit who works at CH Postal Company, Iris admires young working women and is enthusiastic about quickly making a name for herself in the industry. Iris is rarely afraid to speak her mind, as shown by her boredom with her job and open expression of disinterest toward "boring" tasks as a Doll. (Source Wiki Fandom)
"Character is like a tree and reputation like a shadow. The shadow is what we think of it; the tree is the real thing." – Abraham Lincoln
For me the characters in this anime gave off a realistic vibe … which made them easier to relate to. For instance, with violet I was able to relate to her because I have been called emotionless due to my depression in the past. However, I was also able to see myself in Iris at times. The way she would easily get bored of things, and very outspoken when it came to her personal thoughts. It was real fun picking out characteristics that I thought was me in a way. It made it easier to understand the characters in the anime. I thought they did a wonderful job at bringing the characters to life in the anime. It truly felt like they could be people you would meet in a real life.
The Oh So Majestic Animation
Violet Evergarden animation was done by Kyoto, and I must say the did a splendid fucking job dudes. As always Kyoto went above, and beyond with the animation/visual effects. The backgrounds in the anime were very high-res, and beautiful done. I mean look at the gif above… like fuck the water looks so real. Even the characters were very well detailed.  Each character, rather they were a main character or not … they stood out. They all had a uniqueness to them, which matched their personalities. When it comes to amazing visuals this anime is a winner for me. Literally, everything from the characters movements, and facial expressions, they all flowed so well together. It really help bring out not only the characters raw emotions, but the beauty of each character as well.
My Overall Thoughts Dudes!
From start to finish I enjoyed every little second of Violet Evergarden.  It was all around fantastic, and amazing in many ways. The pacing of this anime is a bit slow, but my friends do not let that detour you from watching this anime. I can promise you will not regret it. Violet Evergarden deserves to win some kind of anime award in my opinion. Gosh darn it I will give it the award for MOST BEAUTIFULLY TOLD STORY! Not only was the anime just amazing, but the characters, and animation in Violet Evergarden is A1 … meaning superb. I am honestly going to re-watch the anime again, because I truly did enjoy it that much. So on that note I am going to go grab my tissues!