Manga has a hefty amount of genres to choose from. Maybe you are tired of reading action filled manga, and need something different like a horror manga, or maybe a good mystery to keep you on edge. At the end of the day we all have that one, or two genres we fall back to. For me that genre is yuri, and shoujo ai.
I was first introduced to yuri, and shoujo ai when I was about 15 years old. Girlfriend by Milk Morinaga is what started my lovely journey of becoming yuri trash. During the time I was still trying to understand myself as a person. I was confused rather I like girls, or not! Me being me I decided to google, and learn more about the LGBT community. Upon my endless google searches I stumbled up the word "yuri" … Huh I thought to myself. What is yuri? I soon discovered what the definition of the word yuri means, and immediately became excited!
"A narrative or visual work featuring a romance, or sexual relationship between two, or more females." – Your Dictionary
With a few more searches on the word yuri I stumble upon Dynasty Scans a site filled with a shit tone of yuri, and shoujo ai manga! WAIT WHAT!? Manga! 15 year old me was beyond thrilled that there is manga about same sex love. After stumbling upon this glorious site I did search on, "Top yuri manga to read." Of course the manga that caught my eye was Girlfriend.
I immediately started to read Girlfriend, and instantly connected with the main character Mariko. It was like my life was being written in manga form! For 15 year old me this manga, along with Octave help me understand my sexuality. I say this because I finally understood that I wasn't weird for not having interest in boys. I finally understood that I was normal for liking girls. My life was starting make sense!
I hold yuri, and shoujo ai genre dear to me, and have told a lot of younger LGBT people that story. Ever since that day I have become obsessed with yuri, and shoujo ai. I am constantly always looking for new yuri to read, or watch. I will literally take a non yuri anime, or manga and ship characters lmao. Though my obsession with the two genres may seem like a bit much … I love every second of yuri, and shoujo ai with no regret.
Favorite Yuri Manga
Fluttering Feelings by Ssamba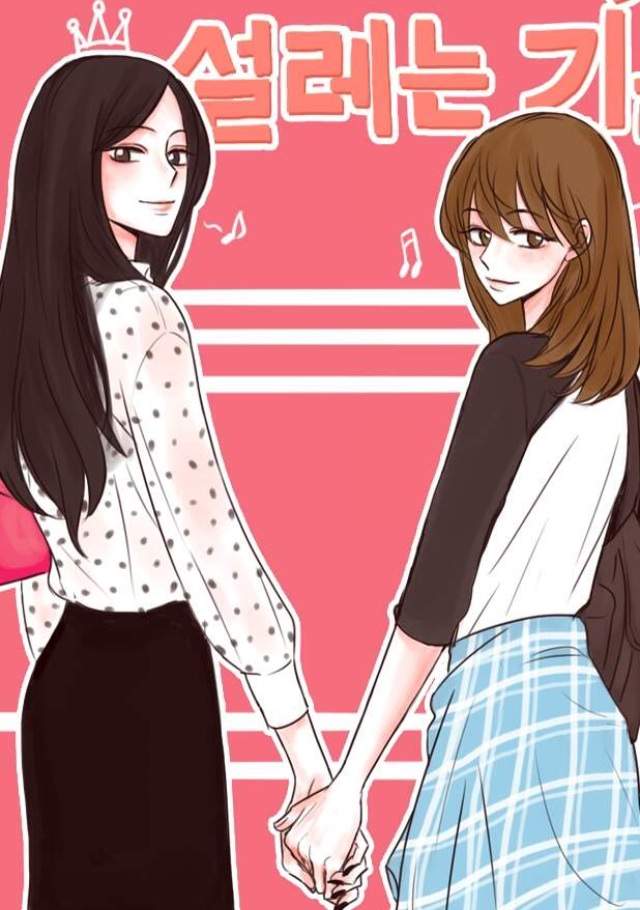 Summary: The story of two people brought together by the fluttering feelings that they know nothing about. ( Source Mangakaka)
My thoughts: This is actually a Korean webtoon created by Ssamba who sadly passed away from cancer. So if you do decide to read this be warned now this webtoon is not completed! The story follows Kim No-rae, and Baek Seol-a who are both business university students. No-Rae who is a bit immature, and Seol-A who is beautifully captivating to all become unlikely friends! The story depicts the struggles of friendship, and true love.
I truly enjoyed this webtoon even though it isn't finish. This is one of those reads that will have your "feelings" all over the place. Ssamba did a spectacular job at grabbing the readers attention, and keeping them hook. The story line is very slow paced, but that isn't a bad thing! You will find that Ssamba illustration get better as the story progress … when I first started reading this webtoon I thought her artwork was a bit sloppy. However, it does get better, and actually grew on me.
Favorite Shoujo Ai Manga
Tamen De Gushi by Tan Jiu 
Summary: The funny romantic story of how Qiu Tong and Sun Jing met and fell in love. Also contains insert art of the characters by the mangaka. ( Source Mangakaka
My thoughts: This comical romance is currently an ongoing manhua that will surely turn that frown upside down. The story follows Qiu Tong, and Sun Jing as the two have many cute, silly encounters during their daily life. In the process of these encounters we watch the two main characters fall in love.  This manhua consist of a lot of short stories, but done in all color!
The moment I started to read this ongoing series I just couldn't get enough! I constantly wanted more. I become like a small child on Christmas when a new chapter is released lol. The story line is pretty simple, but at the same time beautiful if you really think about it. Yes, this is another slow pace series, but I promise between the amazing illustration, and the cute comical plot line. You will not be bored!
Yuri, and shoujo ai for the wins my dudes! I hope this blog caught the attention of my fellow yuri fans, and well new yuri fans. If you are interested in the 30 day anime & manga challenge made by me. Please do check out my post called, "Luna Senpai 30 Day Anime and Manga Challenge!?!?! NANI!?!" Thank you so much for taking the time out of your day to read this blog. I truly do appreciated! Be sure to comment below your favorite manga genre, or genres.
You can read the above mention manga's HERE